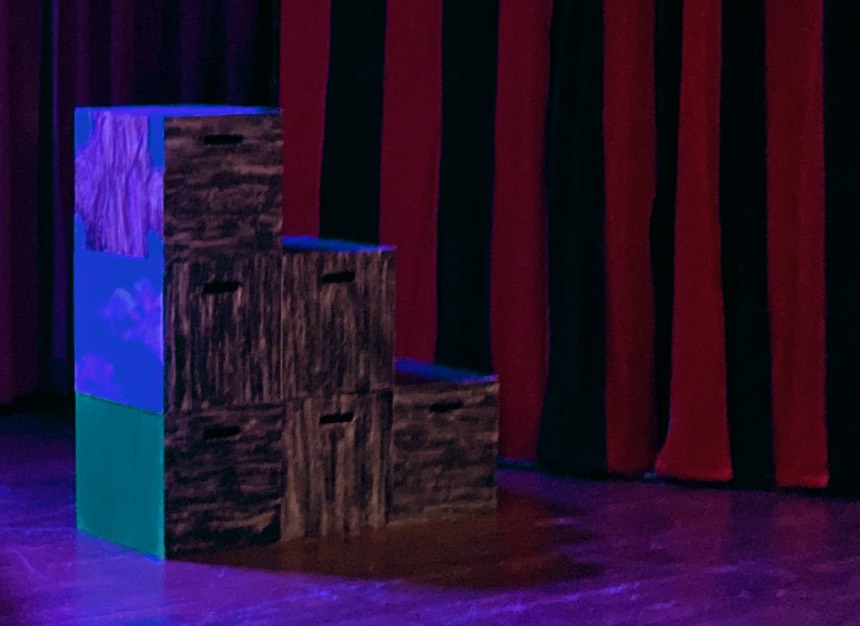 December 8, 2021 — I hadn't physically been to the theatre since mid-2019 when I took a job that had me working seven days a week, evenings, albeit living indoors.
It did cross my mind that my work schedule would be the end of theatre, but here I was, single again at fifty-five, facing a labor market not friendly to middle-aged female artists, and making a reasonable call. This is what is, for now. 
And back in Seattle.
I had been living in New York where going to the theatre is like breathing. You jump on the train and you're there, two, three days a week. 
Life shuffled things around, then Covid. 
I doubted. 
I couldn't bind to Zoom theatre, though I did try.
I worked sixty hours a week in health care and collapsed at the end of my work week.  
I didn't see how the economics would enable much of what we had had in theatre to hold on.
But there I was, two years later, in an auditorium in the U District, staring at a pile of theatrical cubes.
At first it was strange to see them in three dimensions -- I must have gotten so used to seeing theatre on a computer screen that the physicality of it was jarring.
They were enchantingly painted. Usually set cubes are plain black.
Then the show, Fermin's Great Book of Dreams by Julieta Vitullo, began. 
I couldn't shake the sense that the theatre itself had become disjunct during the Covid lockdown, and now disparate parts were reanimating and coming together. It didn't help that this was opening night, and the first time the show was live in front of an audience.
Nevertheless, the production unfurled itself, a lively offering of children's theatre. 
It was a generous audience that included many children, and we all tried extra hard to will the art form back to life. 
As the performance went on, the theatre itself healed, and we became normal in our inhabiting of the universe of Fermin and his lost tooth.
The only actor in the cast I knew was Meg Savlov, an inimitable fixture of Seattle Latino theatre.
I went largely because I am a Meg-bot. For decades Meg has slogged it out to everyone's shows with the art card for her latest show in her bag. She used to carry her little dog Pepe the Papillon with her to everything. I used to worry about Pepe barking in the middle of a show, but he never did. He was a great theatre dog. 
A body of work like Meg's comes to acquire a heft that moves mountains. She puts out the word for her show, and anyone who knows what's good for them appears. I certainly do, and add the latest show to the long catalogue in my memory: flamenco dancing, gypsy singing, English, Spanish, the grandmother, the ghost. I know I will see that familiar face on the stage again and in the audience of my next show.
There was much laudable in the production. I have seen about three of eSe Teatro's productions, including a reading of my own, and they were all workmanlike and understated. This is a wonderful company.
The one to watch of the evening is Vena Kahlo, the costume designer. Get a load of this: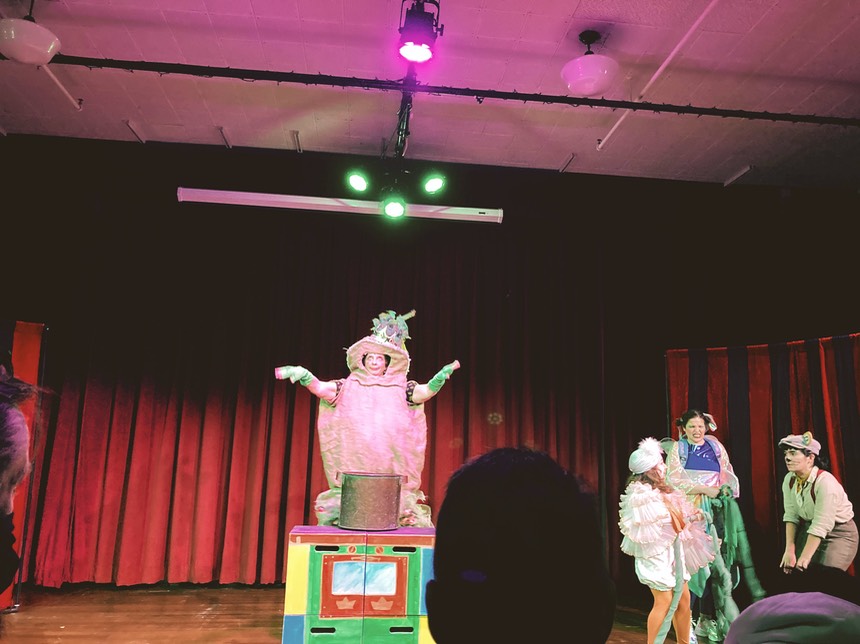 Performances at UHeights Auditorium continue into next week. It is well worth the effort for the $5 pay-what-you-will tickets. ¡Alla nos vemos!